Corporate Event Inquiries: CLICK HERE
 





Creators of the original Singing Tesla Coil, the crew of ArcAttack use their high tech wizardry to generate a truly 'electrifying' performance. Combining their love of rock music and their love of science, this is a show you will never forget!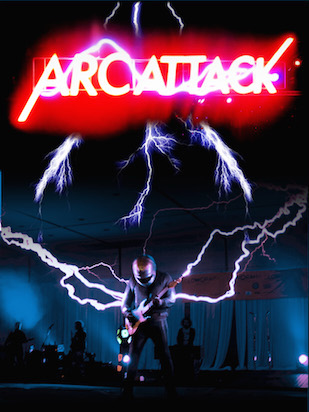 In Austin, Texas, late 2005, ArcAttack began their journey to develop the Singing Tesla Coil with the help of Steve Ward, a veteran Tesla Coiler from Illinois. The product developed quickly, and after several iterations the instrument reached its present form. In 2007, Craig Newswanger of Resonant Studios joined in to provide the fledgling performance with another high tech spectacle, a robotic drum kit, contributing to the performance. Two custom engineered hand built Tesla Coils throw out electrical arcs up to twelve feet long, each one acting as an instrument with a sound reminiscent of the early days of the synthesizer. A robotic drum set accompanies the spectacle, its high power LED's flashing bright colors with the stroke of each mechanically actuated stick.
Part rock concert, part science experiment the creators of ArcAttack unveil the science behind the spectacle. Combining their love of music with science the group invites the audience to explore concepts such as electricity, voltage and current, magnetism, robotics, and lightning through a show that's both entertaining and interactive.
The audience is engaged from start to finish as the groups trusty, completely automated robot drummer King Beat introduces the audience to the show. The show features their signature tesla coils as members of the group literally walk through lightning, then invite members of the audience on stage to take part in a special faraday cage dance off!
SCHOOL TIME PERFORMANCES
ArcAttack offers a comprehensive, curriculum based 60 minute school time show for children that meets National Science Education Standards. The group strives to be a leader in educational entertainment inspiring students across the world to pursue their interests in physics, mathematics, chemistry and engineering. In an electrifying show unlike anything students have ever seen, ArcAttack will take classrooms on an interactive journey of discovery where children will learn the science behind the amazing show they see on stage.
Each member of ArcAttack has a deep and thorough knowledge of science and technology.  The ensemble, led by an engineer, an electrician, an audio engineer and a science teacher create everything students see on stage from scratch in the ArcAttack workshop.  The material is presented in a completely accessible and interactive manner that's guaranteed to keep students talking well beyond the end of the show. In an era where science is no longer deemed "cool" there finally is a show that not only teaches students the fundamentals of science and technology but also sparks their imagination, gets them excited about learning and makes them leap off their feet screaming for more!
Arc Attack offers two shows: Electricity covers Common Core and Next Generation Science Standards (NGSS) standards related to energy, electricity, and matter. This show memorably illustrates several important concepts in physics, and can be tailored to accommodate either middle school or high school audiences.
Engineering covers Common Core and NGSS standards relating to engineering and design. Audience members will have the opportunity to help Arc Attack solve problems, learn about the scientific method, and apply critical thinking skills. This show can be tailored to accommodate elementary, middle, and high school audiences.