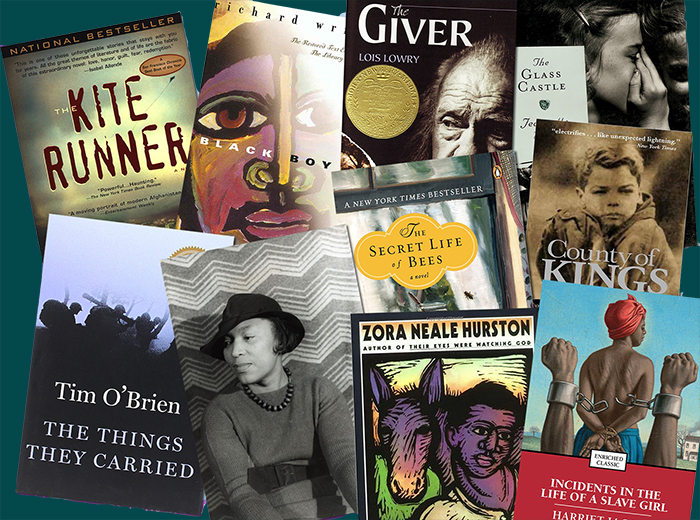 Literature To Life is a performance-based literacy program that presents professionally staged verbatim adaptations of significant American literary works. The program gives students a new form of access to literature by bringing to life the world of the book with performances that create an atmosphere of discovery and spark the imagination. Literature to Life has already provided a catalyst for learning and self-expression for over 400,000 students nation-wide. The following titles will be available for the 2017-18 season. (Click any title for more information.)
Black Boy dramatizes Richard Wright's journey from childhood innocence to adulthood in the Jim Crow South.
Winner of Best Book of the Year from the New York Book Festival, a tough, yet poignant biographical account of a good kid growing up in an unforgiving environment.
Elementary students learn the art of storytelling from celebrated author and anthropologist, Zora Neale Hurston.
Newberry Award winning book with over 10 million copies sold, The Giver has been a cultural phenomenon.
A unique memoir of survival and resiliency told through the eyes of a young girl.
The author is the protagonist in this solo piece which illuminates in shocking fashion the traumas of slavery, particularly for women and children.
Through the eyes of the young protagonist, Amir, the audience is taken on a heartbreaking journey of friendship and betrayal in a society of severe class division.
This adaptation set during the Civil Rights Movement highlights a young girl's search for the truth about her mother, leading her to three beekeeping sisters and the discovery of the real meaning of family.
Considered one of the preeminent pieces on Vietnam War literature, it has received multiple awards such as the Chicago Tribune Heartland Prize, as well as being a finalist for the Pulitzer Prize and National Book Critics Circle Award.
Zora invites the audience into her exemplary life, rich with folklore, intimate portraits of her contemporaries, and excerpts from her significant body of literary work.