Letters Home puts the current wars in Afghanistan & Iraq front and center by bringing to life actual letters written by soldiers serving in the Middle East. The production is inspired by the New York Times Op-Ed Article "The Things They Wrote" and the subsequent HBO documentary Last Letters Home, and additionally uses letters and correspondences from Frank Schaeffer's books, Voices From the Front, Letters Home From America's Military Family, Faith of Our Sons, and Keeping Faith. The play without politicizing gives audiences a powerful portrait of the soldier experience in the ongoing war. The initial production was critically acclaimed and was nominated for a Joseph Jefferson Award for "Outstanding New Play."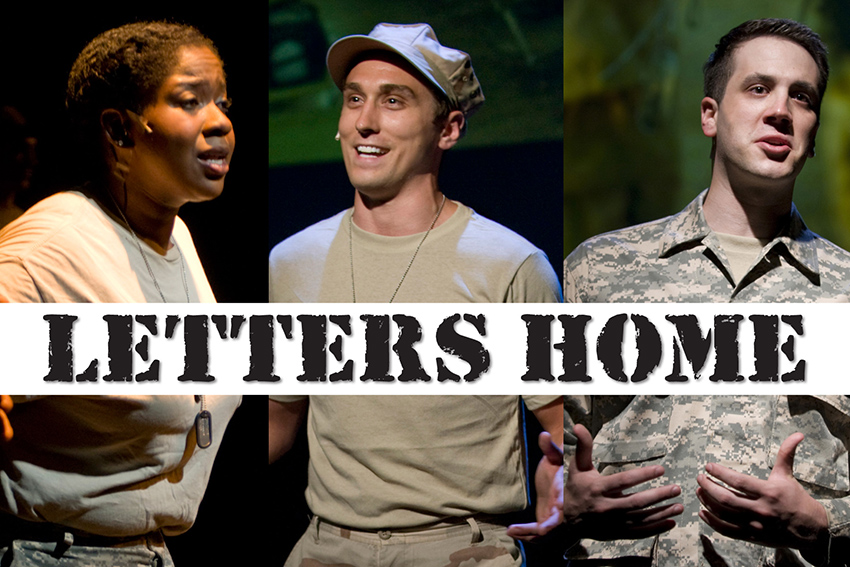 Although the title of the play implies that all the letters are from soldiers, the piece includes a small number of correspondences from parents – their words, being no less important. These letters were written under the most difficult of circumstances; the disorientation of training, deployment, separation from family and loved ones and combat, and occupation duties in Afghanistan and Iraq. One theme seems to unite their diverse voices; the belief that the person standing beside you is more important than you are. They also help define for the audience—patriotism and what it means to serve our country today, through acts of bravery, compassion, social responsibility, sense of community and brotherhood. Collectively the production gives a voice to a generation that went to war against terror in Afghanistan and to war in Iraq, for reasons that are still being debated and who are still fighting and dying in those wars today. More importantly, the play reveals the humanity that lies within the war as seen through the eyes of the men and women fighting it.
The production uses minimal props and set pieces to dramatize the letters. It employs the use of images and video projected behind the actors as they perform the letters as dramatic monologues. The photos and video used in the production are taken directly from actual soldiers' blogs and websites such as MYSPACE and FACEBOOK. To enhance the theatrical experience of the play all performances are followed by a post-play discussion. Presenters may also request an in-school residency or workshops.