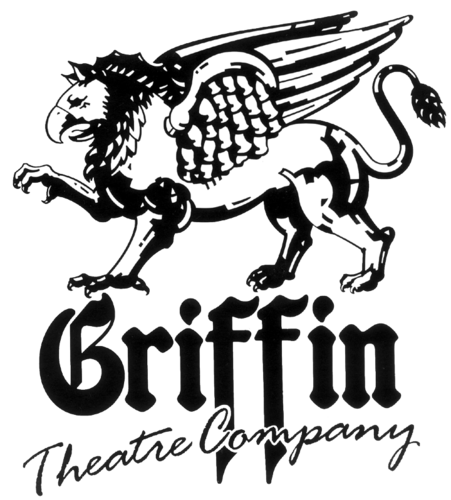 The mission of the Griffin Theatre Company is to create extraordinary and meaningful theatrical experiences for both children and adults by building bridges of understanding between generations that instill in its audience an appreciation of the performing arts. Through artistic collaboration the Griffin Theatre Company produces literary adaptations, original work and classic plays that challenge and inspire, with wit, style and compassion for the audience.
Over the last twenty-five years the Griffin has provided a wide range of work including world and mid-west premieres of acclaimed scripts, critically lauded productions of Shakespeare and original adaptations of novels. Many of the Griffin's 100 plus productions have appeared on Chicago area critics "Best of the Year" lists. These productions included, Time and the Conway, Angus, Thongs and Full-Frontal Snogging, Ash Can Alley, Shakespeare's Dog, Much Ado About Nothing, The Art of Success, Women and Wallace, The Downside, Romeo and Juliet, Loving Little Egypt, Independence, Letters Home, Port and recently, Punk Rock & Spring Awakening.
Children's programming at the Griffin brings young people original productions of award-winning children's literature. Productions over the last twenty-five years have included the world premieres of Little Brother, Be More Chill, No More Dead Dogs, Sleeping Ugly, Frindle, Romeo and Juliet are Alive and Well and Living in Maple Bend, The Stinky Cheese Man and Other Fairly Stupid Tales and The Flying Trunk. The Griffin's national touring company brings these same shows to children throughout the United States. Tours have included such prestigious venues as Cleveland Playhouse Square, Tennessee Center for the Performing Arts in Nashville, and the Cerritos Center for the Arts in Cerritos, California. In addition, the Griffin tours its hit adult production of Letters Home.
The following titles will be available for the 2018-19 season. (Click any title for more information.)
Nicholas Allen has plenty of ideas. When he ends up in Mrs. Granger's language arts class, he has his best idea ever. He decides to create his own word…

Ryan Smithson was a typical 16-year-old high-school student until 9/11. "I'd thought about joining the military the moment I saw the towers fall," he relates in this profoundly moving theatrical production.

The two-time Emmy® Award winning Saturday morning show comes to life in a brand new production. Like the award-winning television show, INNOVATION NATION – LIVE! will inspire audiences with entertaining and educational stories about yesterday and today's visionaries and innovators – highlighting major turning points in the past and present that influenced the fields of science, technology, engineering, math and social justice.

Poor Jack. He's got to use his wits to save himself from the terrible Giant, but a host of familiar fairytale characters keep messing up his plans—and then there's that annoying Stinky Cheese Man!

Letters Home puts the current wars in Afghanistan & Iraq front and center by bringing to life actual letters written by soldiers serving in the Middle East.

A world premiere drama that traces the American immigrant experience from Jamestown to present day through the stories of ordinary men, women and children who departed their homelands in the hopes of creating a new life. An extraordinary story 400 years in the making that transcends time, space and race to reflect the diversity and commonalities of our shared American experience.