Based on the children's book by Esphyr Slobodkina
Adapted for the stage by Michael J. Bobbitt and Ann Marie Sayer
Music and Lyrics by Bill Yanesh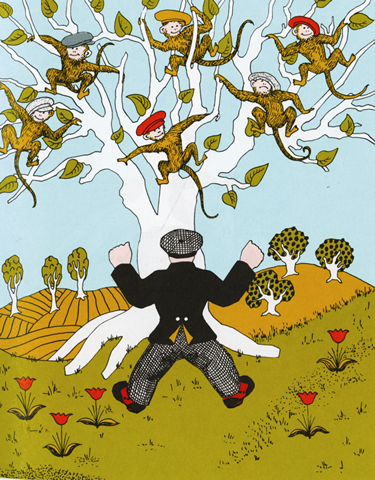 Monkey Business!  "Caps! Caps for sale! Fifty cents a cap!" The peddler has huge stack of caps, balanced carefully on top of his head. Brown caps, blue caps, gray caps, and red caps. But no one wants to buy a cap. So he goes for a walk in the country, and takes a nap under a shady tree. When he wakes up, the caps are gone — all except his own checked one. Where could his caps have disappeared to? And how will he ever get them back?  Celebrating the 75th Anniversary of this favorite book, this new musical will enchant the whole family!
About ATMTC
Adventure Theatre (founded in 1951) and Musical Theater Center (founded in 1986) merged into one organization in 2012.  The combined entity is called Adventure Theatre MTC.  Located in Glen Echo Park (Glen Echo, MD) and The Wintergreen Plaza (Rockville, MD), Adventure Theatre MTC (ATMTC) cultivates new generations of artists and life-long audiences by creating memorable theatrical productions and experiences and by providing young people the highest quality training in musical theater and theater.
The ATMTC Academy offerings complement the National & State Fine Arts Standards of Learning, providing a challenging outlet for students to develop the skills necessary to be successful performers – including self-discipline, teamwork, problem solving, and self-confidence.  ATMTC Academy Alumni have numerous Broadway, national tour, TV and film credits.  ATMTC fosters collaborations and partnerships with local and national arts, humanities and civic organizations.  These collaborations, which have been recognized locally, regionally, and nationally, help to ensure that all of our programming is diverse, affordable and accessible.     Adventure Theatre MTC is a 501(c)(3) nonprofit organization.
Philosophy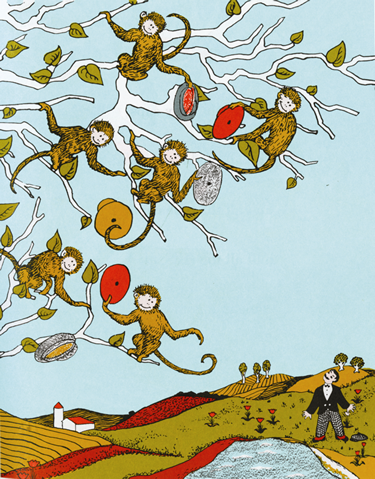 ATMTC believes in the power of theater to transform young people's lives.  A child's involvement in the theater is linked to:
Higher academic performance
Increased involvement with school programs
Lower dropout rates
Increased community service involvement
Increased self-esteem; and
Positive group relationships.
 Programming Reach: approx. 75,000 children, parents, and teachers annually
School-Aged Audience: approx. 66,000 students and teachers annually
Artists: approx. 200 annually
Academy: over 3,000 registrations annually
Outreach Programs: approx. 30,000 students and educators reached through drama workshops, residencies, touring productions and off-site classes annually.
Children's Theater
Professional Productions
ATMTC produces several professional productions for children and their families annually. These productions are enhanced by on-line study guides, interactive playbills, book clubs, post-show discussions, "meet-the-artists" events and other outreach/promotional tie-ins.  These productions are aimed at integrating drama, literature, language arts and the National & State Fine Arts Standards of Learning into the thrill of seeing a memorable theatrical production. Several ATMTC artists have gone on to successful careers in national, international and Broadway theaters.  Alumni, like actor Brad Oscar (The Producers) and playwright Dick Scanlon (Thoroughly Modern Millie) have earned Tony Award nominations.  Visit Our Alumni for other examples.
Local, National and International Touring – ATMTC's In School Players tours to schools, libraries and other venues, locally, nationally and internationally, presenting performances for children and their families.  This traveling troupe was launched in 1969 as a result of a request by the Director of Language Arts for the District of Columbia Public Schools.  The In-School Players has performed at places such as The Cultural Development Corporation and the Smithsonian's Institution.  In 2011, In-School Players traveled to Singapore and Malaysia to perform Just a Dream to over 14,000 students, sponsored by the Tony-winning Singapore Repertory Theatre.  Other shows have included, Clara Barton: The Courage With-In, and The Lion, The Witch and the Wardrobe.
New Play Development, ATMTC presents stage adaptations of popular children's literature and stories.  We are committed to the presentation and development of quality new work for young people and families.  Recent plays developed by ATMCT include Ken Ludwig's 'Twas the Night Before Christmas by Clement Clarke Moore, If You Give a Cat a Cupcake by Laura Numeroff, Five Little Monkeys by Eileen Christelow, Mirandy And Brother Wind, by Patricia McKissack, and The Snowy Day by Ezra Jack Keats.  Visit Scripts for more information.
Community Engagement – ATMTC's community-engagement program is committed to using theater as a way to engage and give back to the community.  Through various partnerships, ATMTC extends the experience of seeing a production by teaching young audience members and students about philanthropy, volunteerism and model citizenship.