Oran Etkin is both an internationally acclaimed jazz and world music artist whose music has is featured on a GRAMMY Award winning album, and also the creator of the groundbreaking Timbalooloo method of enriching the musicality of young children which has been endorsed by  Naomi Watts, Liev Schreiber, Harvey Keitel, Ken Burns and Edie Falco (all of whom enrolled their children in Oran Etkin's Timbalooloo music classes).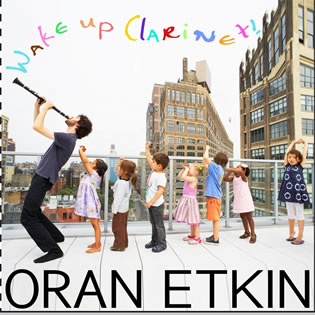 Described as a "great clarinet player" and "an excellent improviser" by the New York Times' jazz critic Ben Ratliff, Etkin has performed around the world with musicians ranging from rapper Wyclef Jean to jazz guitarist Mike Stern as well as his own jazz and world music projects.  Etkin brings this uniquely diverse perspective to his music for children, which incorporates rhythms and melodies from Africa, South America, Asia, and Europe.
Etkin founded the organization Timbalooloo to develop several applications to his unique approach to music for children: interactive live shows with a full band; CDs; video programing; and a comprehensive music curriculum that has been taught to over 1,000 children in New York, Los Angeles and Paris by certified Timbalooloo teachers.
Etkin and his band have performed their interactive live concerts throughout the world in venues such as Central Park SummerStage or Tribeca Performing Arts Center in New York, Skirball Center in Los Angeles, Calgary International Children's Festival in Canada, Changsha Jazz Festival in China, Keo Plaza Hotel in Japan and UNESCO's International Jazz Day in Paris.
The live Timbalooloo performance starts off with a problem: Etkin tells the audience that his friend Clara was excited to come to the concert, but she fell asleep and he had to bring her all the way to the concert in her bed! The kids sing to her as she wakes up  and they discover her name is Clara Net… Oran's Clarinet!  His clarinet speaks through her music and says she wants her mama. Big Mama Tuba answers with a rumble from the back of the audience and dances her way on stage as the children sing!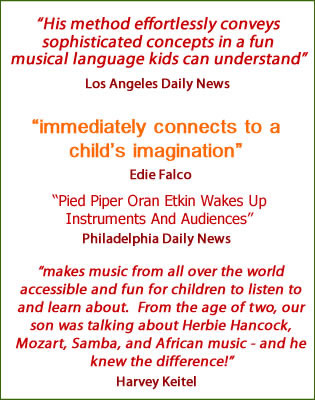 The instruments come to life, speaking through their music and taking the children on a journey around the world – from Duke's place in Harlem to Cuba, Japan to Mali and finally back home.  Throughout the show, the children interact by singing, clapping or drumming certain rhythms, pretending they are honking the horn in a pretend car, dancing certain movements with the music, etc.
While the kids are having fun singing, they are being exposed to a new way of thinking about music: since all the instruments come to life as characters and "talk" through their music, then when it will be the children's turn to play music, their goal will not be simply executing the correct notes, but rather performing the magical act of making their instrument talk and come to life, bringing character, humor and emotion to the music!
The benefits beyond music are also far reaching – math, history, cultural appreciation, speech, fine and gross motor and many other skills are developed, not to mention the most important skill in life… to really listen to what is happening and then find a way to add your own beauty to what is going on at the moment.
Etkin's music was featured on the 2012 GRAMMY Award Winning benefit album All About Bullies, the 2011  GRAMMY nominated compilation, Healthy Food For Thought, as well as Putumayo Kids'Jazz Playground, winner of the Parents Choice Gold Award.  Etkin's 2010 family CD, Wake Up Clarinet! won awards from Parents Choice, Oppenheim Toy Portfolio, NAPPA, and "Best Children's Music Album" at the Independent Music Awards.  His 2009 release, Kelenia, won the Independent Music Award for "Best World Beat Album" and has been hailed as setting "a new standard for world music in the decade of the 2000's" by the All Music Guide.
Recent Performances:
NYC Central Park SummerStage (USA)
Portland Jazz Festival (USA)
Tokyo Keo Plaza Hotel (Japan)
Changsha International Jazz Festival (China)
Tribeca Performing Arts Center (USA)
UNESCO International Jazz Day in Paris (France)
Calgary International Jazz Festival (Canada)
Awards:
2012: compilation featuring Etkin's music wins GRAMMY Award
2011: compilation featuring Etkin's music nominated for GRAMMY Award 
2011: Independent Music Award "Best Children's Album" Wake Up, Clarinet
2010: Independent Music Award "Best World Music Album" Kelenia