ABOUT THE SHOW
Making use of nothing but household objects and four pairs of hands, Argus transcends from the simple to the sublime when a fragile little creature seeks to find a home in a world where he just doesn't fit in. This quietly touching piece highlights the beauty of an impossible life; one that is full of playfulness, joy and laughter. Argus will expand the imaginations of adults and children alike.
The Dead Puppet Society is a production house and design company creating puppet-based, visual theatre in Australia and the United States. Uniting an old world aesthetic with cutting edge technical elements the company conjur immersive worlds where the mythic sits alongside the macabre, and the old school meets the technological. Working in an eclectic form of theatre that ignores the boundaries between defined artistic practices they balance artistic collaborations with training and workshops to strengthen the form of puppetry on the international stage.
The company's strength is their ability to create an entire realm for their audience to inhabit…they are nothing short of amazing (TimeOff Magazine)
Funny and endearing one moment, utterly horrifying the next…its just too well done in its gothic intensity (Australian Stage)
Suberb shadow play and puppetry…stark, sinister beauty (The Sunday Mail)
DIRECTOR'S NOTES
In early 2012 we returned from several months in the US where I had been working on the drafting of my PhD thesis. During the trip I had time for some much needed introspection and reflection into my practice, saw some incredible pieces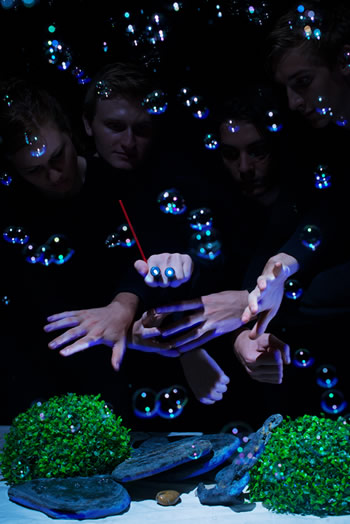 of theatre that used puppets in new and inspiring ways, and had the chance to meet with several artists whose work had been the inspiration for my early practice.
We came back to Australia wanting to make something different; to create a show that would really embrace the ideas of transformation and illusion that puppets seemed to embody so poetically. We wanted to create a character that wasn't limited by its physical properties, one that could shift and change, one that could be responsive to the imagination.
Soon after I arrived home I conducted an experiment into how this might be possible in the creation of a short work called Of Little Matter with QUT's student run theatre company Vena Cava productions. The results were as astounding as they were simple; use nothing but the performers' hands. From this initial development we've taken our little character through several further rehearsal periods in the creation of an entirely new work. We've trialled new methods for staging, refined the story with Richard Tulloch, and watched as the performance was scored by Topology.
To finally see the pieces fall into place after all this time has been wonderful. This show has been crafted by the hands of so many talented individuals.
To each and every one of you, thankyou. We hope that you enjoy our whimsical little world.
David Morton ,
Director and Designer